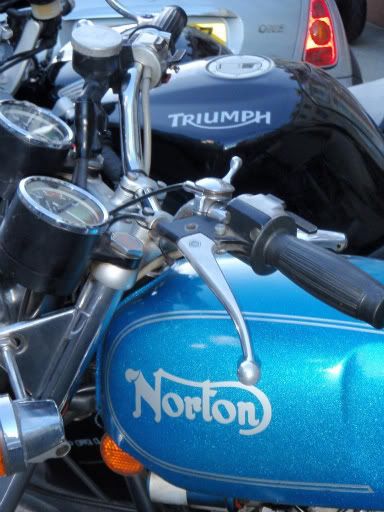 Thursday
The Long Way Up

It was an early enough start to see me at Rob's flat for 0630, meeting Paul there for a Sausage and Bacon roll lovingly prepared by Yvonne, Rob's girlfriend. We were all brimming with excitement and raring to go. A quick photo of the three of us and our bikes and we're on the road by 0700. The M25 is a car-park and it's a real effort to weave through the rush hour London traffic with all our gear. My impatience soon sees me in front of Paul and Rob but they catch up quickly (impressive for Rob, the profile of his fully loaded GS is an impressive mass!) and we soon exit for the M40. The traffic thins out almost immediately and we're cruising effortlessly.
At Oxford services we stop for fuel – me having the smallest tank, Oxford is a natural stop to make it up to Ashby for the next fill-up – I put on my iPod in readiness for the up-coming laborious motorway miles. With the sun shining and the roads relatively empty it's dull but painless. A RAF Hercules buzzes low over us just outside of Oxford, it's a majestic sight. I later try to convince the lads that I'd arranged the fly over for their entertainment... they were not convinced.
Just after Birmingham, around Shirley on the M42 in fact, the cold started to set in. It wasn't a particularly cold day but there was an early chill that seemed to penetrate the bones. We'd been lucky with the expected Birmingham rush hour and found ourselves blazing on through to Ashby where a hot coffee stop would be the perfect remedy. By some miracle Simon was ready and waiting for us at Uncle Dave's, coffee in hand looking rather smug. I've never known Simon on time for anything so perhaps a 156 mile head-start is the trick to future punctuality.
Paul's 23 year old Honda hadn't fared so well (I'm sure Paul will excuse me the pun), although we unanimously agreed that it had performed a sterling effort in getting thus far – on time no less – it had managed to shed part of it's limited fairing and the bike was now exposing much of it's electrics and battery for all to see. Not a major problem but should it rain, something that would have to be addressed. The coffee at Dave's was much appreciated and I can only hope that we didn't annoy his neighbours too much with the usual chaotic parking. We must have given the impression of a marauding hoard sprawled all over his quiet suburban road.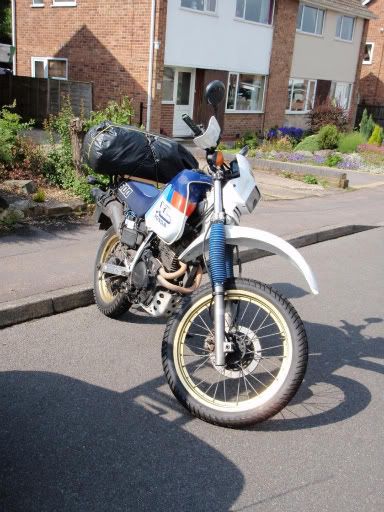 Our entourage now consisted of two single cylinders (myself on the XTX and what remained of Paul's XL), Rob's huge BMW GS, Simon's Kwakker KLE 500 and Dave's beautiful Triumph Thruxton; an eclectic mix to say the least and we were now off to meet Steve (whom we shall refer to as little Steve to save confusion), Dave's mate, in Ashbourne to add a Grizzo to the hot-pot medley, a touch of Italian spice you could say.
It's all country lanes to Ashbourne, following Dave the whole way stopping only for my apparently constant need for fuel (oh to have a huge tank like the other boys!). I know the lanes quite well, having grown up in this area and learning to drive a car here so I sit back and enjoy. It's obvious that the rest of the guys are enjoying the roads too, their body language on the bikes says it all and I'm sure that the break from the 'monotoway' is a welcome change of pace for all.
We all thunder into the sleepy town of Ashbourne feeling rather out of place. This has the appearance of a typical Derbyshire village; small market, rickety church, old dry walls of local stone, simple country folk going about their simple country business. And then we turn up, all noise and not a brace of pheasant between us. I'm slightly embarrassed to be honest. Even more so whilst we attempt to line up for our first group shot of the trip. Simon's inability to park a bike proves too much once more and I count myself lucky that we're not picking his bike up again – I settle on a rather hectic shot of the group all looking rather bemused and, after Dave and Lil' Steve bicker over the general direction for a minute or two, we move on. Ironically, Simon was the first to become impatient and started revving and beeping.... I'm sure the sleepy folk of Ashbourne loved that!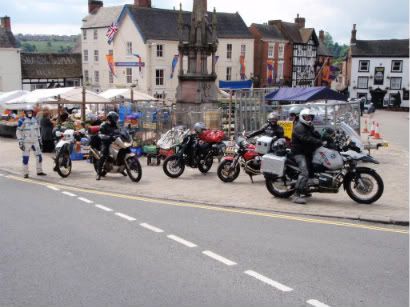 There's no two ways about it – I LOVE DERBYSHIRE! Numbering six, there was a definite sense of 'group' but luckily no jostling for position. Everyone was mature enough to just enjoy the ride without the often commonplace frivolity found in group riding. The great group of riders merely amplified the stunning scenery we wound our way through. Breath-taking – quite literally. I found myself sighing in the natural fragrance, absorbing the panoramic with a thirst. Even the roads seemed to capture the mood, lulling us left and right like a mother rocking a baby. It was all very peaceful... apart from the noise off course.
We head to Buxton and the infamous Cat n' Fiddle. Early midweek morning I must admit to expecting to find the Cat n' Fiddle road empty and although by no means busy there was some traffic. It wasn't too long in fact that temptation got the better of me, there was a sweeping right with great visibility of the road ahead so I throttled past Rob, Uncle Dave, a saloon and a pick up to enjoy an open run up to the pub. At 1,690 feet, or 520m, above sea level (Britain's second highest Pub) the chill that had once again crept in wasn't quite so inexplicable, although I think we were all a little surprised by it. We all enjoyed a hot coffee all the same. After our warming beverage we remounted the bike and I shot off before the others in an attempt to miss the traffic... Alas to no avail. After a few bends I did manage to pass the gratuitously large Winnebago and enjoyed a relatively clear run for the remainder of the road to Macclesfield. I stopped at the far end and waited for the others with my camera. I'm confident that everyone had fun regardless of the traffic, the views are pretty spectacular up there and the roads are ample fun even at a slow speed... I'm told.
At Macc we resigned ourselves to the mercy of Rob's Tom Tom Sat Nav. It leads us all through some fascinating and unexpected lanes, which whilst slow, were innumerably more fun that a bustling dual carriageway. Eventually popping out on the motorway for the final leg of the trip to Heysham. The fuel stop was much called for, not just from a re-fuelling point of view but some rather numb posteriors definitely appreciated the leg stretching. When we finally see the sign for Heysham we find ourselves punching the air feeling victorious, particularly Paul who's Honda had surprised us all in completing the journey without the aid of an RAC van or losing any more parts!
We soon pull up at the harbour and the first security check. I ride past the first guy in a high-vis jacket, assuming that the second guy in a high-vis jacket – a mere twenty yards behind the first guy – would be performing the same task whilst the first guy was busy with a car. Wrong! It transpired that the first guy was there to check your ticket details before forwarding you to the second guy who sticks a day glow "IOM" sticker on the front of your bike and forwarding you to the 'holding queue' prior to boarding. It was a genuine mistake and the shouting was probably a little unnecessary but no harm no foul. In the queue we whip our helmets off and enjoy a little banter. There's a few bikes waiting and one bike joins the queue just behind us, the rider looks familiar and he swears blind that he knows me. He's from London so I real off all the likely bike cafes or meet haunts he may know me from before we discover that he is one of the security guards at BA's head quarters, Waterside. In fact he 'headed up the investigation' (I suppose this means made a statement to the police) when Rob's Africa Twin was stolen from there. He remembers my Ninja... I expect because it was one of the few bikes that escaped the grasps of the thieving pikeys that ply their trade in that area (it was a bugger to start with the key sometimes – best security device in the world!).
The queue finally starts moving and we're once again stopped. This time I'm told that I have to take my booking details to the small booth and get our tickets printed so we can board... funny, both our high-vis'd friends neglected to mention any further administrative requirements and I can't really help wondering the purpose of the job-worth pedants in the first place. Tickets in hand we ride through the dock and up the ramp onto the heaving deck. I've never seen so many bikes crammed into one place – and I've been known to park in central London! Temporary iron barriers had been placed down either side of the vessels hull to create further tie points about two meters apart – we're instructed to squeeze down in-between the barriers, two abreast. There's no tie-downs only flaky looking short ropes so I feel particularly smug remembering that one of the last things I packed was a decent tie-down making lashing the XT a much easier job. Just as well, even the Claustrophobic immune would struggle with the cramped conditions and general hustle going on.
Being the Seacat the crossing was a mere two hours and knowing that camp was a miniscule hop-skip-and-jump from the port of Douglas Simon and myself indulged in a cold beer. Everyone grabbed a sandwich, a late lunch to say the least. Most of us retired to the aft deck to enjoy the sun and spray as we skipped over the Irish sea. A RAF jet fighter buzzed over head a few times and an impressive off-shore wind farm lazily rolled by on the starboard side. There was barely a cloud in the sky and if the weather stayed like this we would have to consider ourselves very lucky.
Eventually spewing forth from the cat after the chaos of un-tethering all the bikes in such a confined space we were finally there! A few of us were surprised to see the bikes still upright but to be quite frank they wouldn't have had the room to fall far. Douglas felt like a familiar place, a town I'd been to many times as we rode down the ramp and out into the town centre. The effect of seeing so much of it on Television or documented in books and magazines I suppose. That said, I still remained clueless as to where I was going so we all followed Paul and his rather hazy directions he'd received via email to the camp site he'd bravely arranged for us all. The centre, although small, was pretty busy as you'd expect and we soon found the group split. But Douglas is not a large town and we soon caught up. It wasn't long before we found the Rugby club. Whilst Paul went in to check us all in etc. Simon started unpacking his bike. Unfortunately we'd managed to find the only OTHER rugby club in Douglas to the one we were expected at. Simon was not amused.
With fresh directions we braved the Douglas traffic once more. Conscious not to lose the party again we took a more pedestrian approach to the ride and soon enough found ourselves at St George's FC (which has a Rugby Club next door to it). St George's is situated right on Bray Hill, just a 100 meters north of the start/stop Grandstand area. From where we pitched we could not only see the IoM TT Grandstand but a sea view too (it's the top of the hill). I couldn't imagine a better place to stay so I have to extend my up most praise to Paul for all his efforts in getting us in there.
Tents were up in seconds and shorts donned – we were here! We grab a couple of local brews in the club house and chat with a few residents, getting the gossip and general low-down on stuff. We're told that in a departure to usual Douglas itself has very little going on. Nonetheless we meander down the hill (the very steep hill I might add) in search of local delicacies and a few more beers. Down on the front a local Bobbie directs us the the best fish and chip shop in town; Moby's. Sat on a promenade bench fending bloated seagulls off our chips the inescapable seaside town feel soon had us lulled into that familiar holiday mood. The chips are exceptional, although Simon is perturbed by the curry sauce on his fish and takes his back (the first in a string of Gordon Ramseyesque food related tantrums). We soon find ourselves wandering a little aimlessly through the town. As is always the way I find on the first day of a holiday. Luckily Rob, in a desperate need for liquid refreshment, makes an executive decision and walks into the nearest pub (which just happened to be flying the Saltire – although I doubt that had anything to do with the decision). As you might expect, one beer turns into two, two into three, three to-in fo-ght... a bit more mooching about in search of that perfect pub... maybe a couple more... to be honest it's all a little hazy but I do recall more chips, a cab up the hill and a coffee back at the tent before turning in for the night – all very civilised really.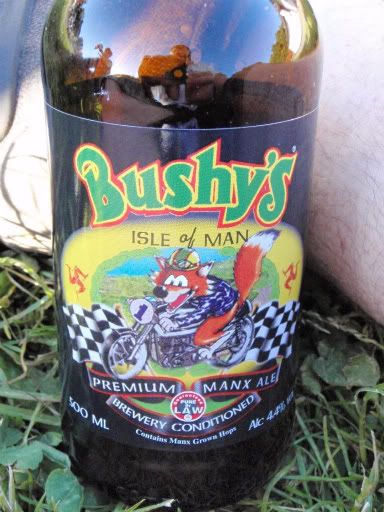 Friday
History in the making
It was a hazy, muggy start to the day and not just in my head. The camp site was awash with midges, which although annoying didn't seem to be biting... how wrong I was – it later turned out that the little devils mercilessly feasted upon me leaving the bare minimum of un-effected flesh. I brewed coffees for anyone daft enough to brave the swarm or awake enough to join me and cooked myself some beans and sausages for breakfast. It was to be a busy day and I thought a firm footing in a decent breakfast would stand me in good stead. It was to be the day of the first ever TTX GP Carbon Neutral Race, electric bikes essentially. Plus, off course, the famous TT Senior race. The Senior was the main thing in terms of the whole week of racing and remains the most talked about race after the fortnight is over.
Whilst we ready ourselves Simon's bike inexplicably topples over – seems to be par for the course for that fated kwakka on these little trips. The troops rallied and bikes started we headed out to position ourselves at Ballaugh Bridge with the intention of getting there before the road closed. We were cutting it fine and I was slightly concerned about the route there. Then came the dawning realisation that whilst the road remained open we could simply follow the track. Stupid that I hadn't thought of that before really. With impeccable timing we pulled up at the bridge and parked on the Spar Shop side of the road on the advice of some hardened race fans. The road closed behind us shortly followed by the safety car. We all grabbed a coffee and a pie from the shop and positioned ourselves by the track with ample view of the bridge. It was early enough to not draw the bigger of the crowds as the TTX GP was the first scheduled race.
Before long we hear through the Tannoy system, echoed on Dave and Paul's portable radios, that the race had now started. A moment in history that we were all fortunate to bare witness to. Obviously electric bikes make very little noise, certainly when compared to the thunderous sound of the big 1000cc tuned superbikes, so as they approach any particular point the Marshals signal their presence with whistles – I found it all rather surreal. They still came fearlessly hurtling over the bridge at top whack in mid air but with a whisper not a roar. The only real sound was of the clunk of the faring as they landed the bikes back on the road. Although amazing in it's own right it lacked a certain something by removing one of the sensory effects. The crowd for this spectacle was probably about two deep at it's thickest for this race so obviously still a few years from being the big draw race.
The TTX GP wasn't six laps like the senior so was over relatively quickly in comparison. Our understanding was that an American team had won, only to be disqualified later for the wrong fuel cell or some other complication. I suspect that this was just the TT gossip mill misinterpreting the Moto Czysz's failure to finish. The race was won by Rob Barber on the Agni XO1, in the words of MCN "A tatty GSX-R600 with an aerosol paint job...", his crowning glory lap being a record 'making' 87.4mph. The lack-lustre crowd dispersed and we went for another pie and a coffee (the pies were really very good) before retiring to a small green, sitting on the steps of the war memorial to reflect on what we'd just witnessed.
A hard week of mechanical failings had unfortunately ruled the Norton out of the Senior but there remained a die-hard following on the island. The Norton's island heritage cannot be escaped and everyone wanted to see the bike do better. The radio announced that the triple would be completing a 'test lap', I suspect, more for the fans than to test the bikes ability to lap the course. It seemed almost immediately after hearing this the roar of the rotary engine came blasting through – I wasn't even close to getting a picture, I barely had time to raise myself from my seat, my small burst of energy proved completely futile. It was moving impressively fast and to be honest I'm not sure it landed until Sulby. Consequently I have no idea who was riding it, I think it might have been Michael Dunlop – it was a very cool thing to nearly see. Let's hope that 2010 will be Norton's year.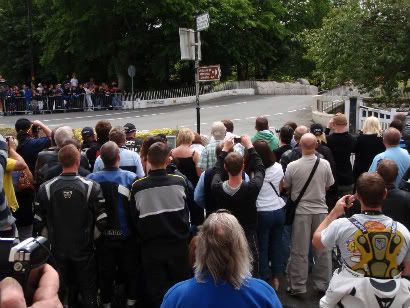 Up until now we'd been incredibly lucky with the weather and to be fair the few spots of rain we were now experiencing were no where near the sort of weather one could moan about. But it did postpone racing none-the-less, the commentators announced that the Senior would be delayed by 30 minutes... time enough for another coffee... Oooh, and maybe one more pie. Sure enough at half past one, exactly 30 minutes past the expected start time the track was deemed safe and the race began. When the first bike came tearing through Ballaugh it was moving so fast that I was only able to take a rather wobbly and out of focus picture of an empty bridge! The crowd was maybe four or five deep now and a few of us had clambered up the side of a building in an attempt to find an optimal viewing point. Precariously balancing on the balls of our feet or the edge of a bum, desperately clinging on to any tiny precipice with one hand whilst operating cameras with the spare hand. This is my excuse for some of my terrible pictures at least – that and it's a new camera and I didn't read the instructions; turns out there's a 'sport' mode! To be honest, apart from an annoyingly placed sign post it was an extraordinary place to watch. Every rider seemed to have their own innovative way of approaching the obstacle, some impressively waving the nose wildly in the air, some flat out. A few times we saw guys get it very wrong (luckily not wrong enough to not be rubber-side-down) and land nose first causing the bike to wobble and weave. The guys that got it right, flew through the air but managed to land almost flat and upright, ready for the gas and fly out of the sleepy village in a blur of speed and aggression. We were so close to the action, it felt like I could feel the cylinders racing. Through the air and the engine screams before landing with an uncomfortable clunk leaving your heart in your mouth and your pulse racing. This isn't like track racing – you feel close enough to the race to convince yourself you're pillion for the briefest of seconds. The excitement was awesome and I was hooked.
At six laps it was going to take about 2 hours to complete the 37.73 mile track. I tried to image riding for two hours at this pace - incredible! It gave us plenty of time to try a couple of varied points to view the action, hence why we'd been advised to position ourselves on the Spar Shop side of the track (the outside of the track) so we had the freedom of movement to explore further around the course. We set off for the Sulby Straight with directions from a kindly pair of spectating veterans. Just before the village is a junction with the track on the fastest part of the straight. A rope separated the few spectators from the race proper. Just a rope. There must have been about ten people watching here, a gem of a spot if you like your space and extremely fast bikes. You have to remind yourself that this is a regular road. Lumps, bumps, white lines, tree-lined verges, cambers and grit. The bikes whiz through here at such pace that any details are a blur. The stills camera was useless at this speed, I tried filming it with the video mode – I now have quite a few one second video clips. This isn't like seeing somebody riding fast on the motorway, this is a single carriage road with no pavement and all all the road furniture and paraphernalia you'd expect in a village and these guys are on the throttle, pinned to the max, topping out in the hundreds of MPH. Little wonder that the back draft flicks the foliage by the side of the road, you feel it hit your face, blowing your hair – quite literally a hair raising experience! The sound is deafening and brilliant.
We wanted an eclectic viewing experience as possible so from the pure speed of the straight at Sulby we were intent of seeing the Ramsey Hairpin – the slowest part of the track. Skirting around the track in the back lanes to Ramsey couldn't have been simpler, finding exactly where we wanted to be in Ramsey on the other hand was a logistical nightmare. Conscious that we might be missing far too much of the action we settled for the first race point we came to – Parliament Square. Quite surreptitiously this turned out to be a great viewing point. Although busy the crowd was still thin enough to see the action as the bikes came screeching down to the square, hard as they dare on their brakes. The amount of rubber laid down on the road between the two pubs testament to how close the riders were to locking up and over shooting the hard right on their arses. The bikes are cranked right over, knee on the curb before they fire themselves up the hill, throttle wide open again.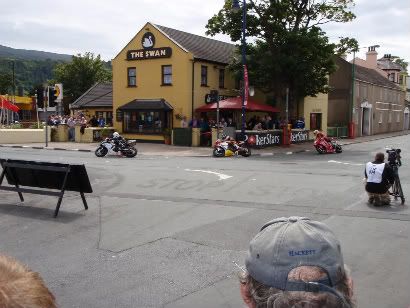 It was here we heard the sad news that both John McGuinness and Guy Martin had both had to retire through broken chains, both as they exited the paddocks. The front runners of the 2009 Senior now looked very different and it was being lead by Steve Plater on the HM Plant Honda. Every time Plater came through the crowd went absolutely berserk, especially on his last lap. The pressure to not stuff up and bin it must have been immense, the excitement was incredible! We'd shifted into the pub (the one on the outside of the track obviously) and via the bar walked through to the back and the beer garden. The garden wall ran alongside track at the breaking point, a great place to spectate. With a cold beer and a hot doughnut we watched the final throws of an amazing race. We saw the tail enders giving it their all. Then a stream of Marshal bikes, followed by the safety car (a shiny new Jag), shortly followed by the road open car (another Jag) and then followed a bus back on route to Douglas! We broke for our bikes like the start of an enduro race.
The mountain road (the end section of the course) was sadly shut due to a fatal incident. So we were diverted via Laxey and the coastal road. The days excitement must have gotten the better of me and I admit to feeling a little tired as I rode back in somewhat of a daydream. The road lent itself to that frame of mind though and was a picturesque daydream of a flowing ride. The sun glinted off a cobalt blue Irish sea 100 feet below me to my left as I meandered through beautiful fairy-tale villages. In my dreamy state I was completely oblivious to the Laxey Wheel (the 155 year old wheel built to pump water from the mine shafts and the worlds largest working waterwheel) as I was to the fact that the rest of the group had stopped to take a better look at it. Only Simon remained now so we pressed on. Douglas and camp was not too far and we joined the course back at the round about at 'Signpost'. One by one the guys soon caught up and joined us being only 20 minutes or so behind. Bizarrely, Rob had taken a slight detour after missing a turn and still managed to get back first out of the bunch.
Our prompt return afforded us some much needed R&R time so we chilled by the tents, gossiping and reviewing the days racing. After a while, feeling suitably refreshed, one by one we starting showering and getting ourselves ready for another soirée into Douglas. Paul's source had recommended 'Chillies' curry house so a table for six was soon appropriated and we tucked into a lovely meal and a few Indian lagers. The only complaint being from the ever-picky Simon who insisted that his egg fried rice wasn't "old enough" – we tried pointing out the obvious and I'm sure had we actually gone for a Chinese his Pillau rice would have been equally as rubbish. Suitably bloated and in need of cold refreshment we then retired to The Queens (at the north end of Douglas' sea front) where most of us proceeded to get very drunk. Whilst staggering back from the toilets at one stage I bump into Michael Rutter, the TT legend, I think I manage to point and mumble "mnrlmn, Rutttttttter, blrmn leg, end...", he simply smiles and carries on his more sober evening.
Later, whilst getting our traditional cheesy chips and curry sauce from Moby's we saw him again – he was having the same, an island classic. Far too inebriated to attempt the complex climb back to camp the six of us acquire two cabs to take us back, we try to get them to race but the first bunch get an unfair head-start and I think that our drivers sobriety meant that he wasn't as enthusiastic about the concept as us idiots. We boil up some water and make hot chocolates, spiked with a dram of Malt Whiskey before settling down for the sleep of the dead.... well dead drunk at least.
Saturday
Lightweights and Fairies
The weather seemed to be offering a mixed bag today. It was a slow start with delicate heads all round. The plan today was to head down to the south of the island, Castletown, to catch some of the lightweight racing (125cc's etc.). On the journey down there it was fast becoming apparent that the entire southern end of the Isle of Man was shrouded in cloud, even so, it remained dry and cool. The route down, on the A5, offered an array of sights. We passed a remarkable structure that appeared to be some kind of processing plant or power station. It's sci-fi appearance looked quite out of place in this largely agricultural panoramic, but engaging enough in it's architecture to warrant a second look. The A5 is probably more famous for it's Fairy Bridge: This bridge is ritually visited by competing teams in the TT and spectators. It is considered bad luck not to greet the fairies on passing at any time and in bygone years it was not uncommon for taxi drivers to stop the vehicle should their charge not offer a greeting. Barely recognisable as a bridge as you pass, it has a small trickle of a stream running under the road with a tree overhanging it's bank that is close enough to reach from the road. The trunk is adorned with notes and trinkets – offering to the fairies and memorials to lost sons (some, victims of the Afghan campaign). Some people simply post a hope, dream or aspiration as did I, tucking a tiny note in amongst the array of other messages. I actually found it far more moving than some official memorials.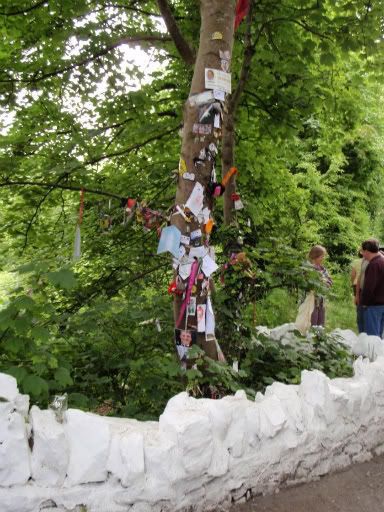 Only myself and Little Steve had actually stopped. Like I said, other than the sign the bridge is almost unrecognisable. A couple of the lads back tracked to find us and we soon caught up with the group. In Castletown the racing was easy to find and we soon found ourselves parked up outside a small service station and bike shop watching the first few practice laps. The Castletown track was a measly three mile course so laps didn't take long at all – translated this means that there was pretty much always bikes whizzing past. Not being timed starts like the Mountain course also meant some pretty close action and from where we were stood we could see riders jostling for the right corner entry, elbow to elbow with screaming two strokes. Between practice and the first race proper we went in the services for the Ubiquitous coffee and pie (the Service Station pies are inexplicably outstanding over there). Quite why the coffee was so complicated to get is beyond me though: you had to queue and get your paper cup from the cashier first, fill it from the machine at the other end of the station then go and queue again to pay for it with any other purchases. Why not just keep the pile of cups with the coffee machine or at least place a sign up explaining this complicated ritual. Quite unnecessary in my opinion, you'd never see that at the Ace Cafe or Rykas.
Noting a path across the adjacent field we crossed the railway track, clambered down the make-shift scaffold stairs and crossed the field to watch from the dry stone wall along the back straight. Unfathomnely close to the racing. It was here I made a terrible faux pas: Unbeknownst to me my new camera still had it's flash on automatic – evidently as the racers came hurtling toward the final hard right in a screech of brakes and adrenalin I was flashing them. Blinding them at such a critical moment. It also took me some time to realise that the Marshals and several spectators were all shouting at me – I felt awful (I did get some great shots though). After the race we beat a hasty retreat, lest we be lynched by an angry mob of half blind racers.
Leading back to Douglas I managed to take a slightly alternative route, some might say I got a bit lost, but the diversion did take us past the harbour and the George Formby statue 'leaning on a lampost' on Ridgeway Street, close to the intersection with Lord Street. By contrast Douglas was bathed in stunning sunshine. It was a curiously funny sight to see the five other guys blindly following me like baby ducks around the tiny harbor streets and even a brief visit around a Supermarket car park. We eventually rolled back into camp. It was early afternoon so we popped over to the local supermarket (a small walk through the back of the camp site), bought some supplies, a large disposable bbq and a few beers and got into some serious relaxation. We listened to the Isle of Wight festival live on Dave's portable radio, sank a few warm lagers and Simon and Rob cooked up an absolute storm on the Barbie. Burgers, Sausages, Crisps, all the good stuff. We all more than sated our appetites, in fact, it was unanimously agreed that we'd easily eaten our fills and a few of us even attempted to sleep it off in the afternoon sun.
Not forgetting our obligatory duty though we headed into Douglas once more to sample the local fare. Dave was of the opinion that it would make a pleasant change to walk down to the harbour end of town and try a few bars there. At the south end of Douglas it was a little further but the walk might be a useful digestion aid after our mammoth feast. The walk encompassed Bray Hill to start and then the back roads down to the town – not as steep but considerably further. It was a pleasant evening though so I doubt anyone minded and it helped in creating a worthy appetite for that crucial first potation of the evening.
The well kept, tidy harbor had an eclectic mix of vessels from small fishing boats to plush new pleasure cruisers and hobby sail boats. It's a good looking harbor, quaintly British but slightly modern. A beautiful carved wooden bench that you just have to touch, shines with varnish made up of layers and layers of wood. The five single seats all at different heights. The bars at this end of town were certainly lively too. Populated largely by varied costumed parties of Stags or Hens. The bars all seemed to require the services of doormen here too – I'm not sure whether to take this as a sign of what to expect or a reflection of what might have gone before.
Meanwhile Simon's week of dietary dilemmas was ongoing – whilst I was at the bar getting the first round he quietly excused himself to expunge his system of the massive meat feast he simply couldn't digest. I must admit, I was only just recovering from the meat sweats and a few of the other guys were still stroking their swollen abdomens, so when Simon returned, eyes watering and wiping his chin I knew exactly how his evening was shaping up. Most people use the big porcelean phone at the end of the night! Our second establishment can only be described as carnage. An aging trio were busy butchering well known pop rock classics, the lead singer often improvising the lyrics and the guitarist frequently forgot which song they were performing mid-way through the song. I narrowly missed being dragged into a brawl at the bar, the only saving grace being that both guys were so drunk that none of their punches landed giving a real handbags at dawn impression to the scuffle. Meanwhile Paul was busy fending of the unwanted amorous advances of one particularly drunk and toothless old hag – I have it on good authority (Well Simon and Rob had managed to recount through fits of hysterics) that her eyes literally lit up when she saw our Nordic Giant enter the pub and she made a beeline dash across the dance floor for him nearly braking several hips en-route including her own!
By the end of their respective pints Dave and Little Steve had had their fill and decided to part company for the night, heading back to camp for a more subdued and civilised night whilst myself, Rob, Simon and a rather shaken Paul pushed on to see what the night might offer. At the next bar some strange stroke of inspiration lead to a round of Snakebite and Black. This in turn seemed to set the preccident for the night. As you can imagine the evening digressed into a messy affair and several bars later we found ourselves staggering into Jaks, a late night venue on the waterfront. We caught the end of an impressive eight piece jazz band which had amongst it's troop a phenomenal trumpet player who must have been the whole of 12 years old! By all accounts he was standing in for a relative at the last minute – amazing! Simon spent a small proportion of our time in here missing in action. To this day we're all a little unsure as to his whereabouts... including himself.
Back at camp we were either incredibly rowdy or Little Steve is a light sleeper (he had previously mentioned poor sleeping habits and he's not by nature a happy camper). He joined us for a coffee none-the-less. Paul recollected his plan to take it easy tonight due to our plans for the moro, concluding that his plans may have gone off track at some point. At some point we noticed that we'd been joined by a gang of hungry midges again, eager to not wake itching like a Leper again be broke for the sanctity of our tents. I drifted into a fitful slumber still clutching my hot chocolate to wake later miraculously still holding one cup of very cold chocolate.
Sunday
Busted!
Although not 'Mad Sunday', we'd unfortunately missed that it being the Sunday that bisects the two weeks of TT, we were intent on experiencing the whole track from the back of our bikes. Get a real feel for it from a riders perspective. Me and Rob had agreed that we were eager to complete a full circuit, without stops. He was going to video it on his 'Helmet Cam' and then we could do a sight seeing lap, stopping where ever took our fancy. But, true to form, he wasn't up yet and after last night there's no way I was going to risk shaking the cage on a potential bear with a hang-over. Those up form in line behind me and Rob and Simon will join us for a second lap when we get back. I'm not so foolish as to contemplate timing it – it would be pointless; with traffic lights, speed limits and the usual parameters of the road much of it passing through tiny inhabited villages. I'm also aware that there is a good chance that there will be police checking that riders treat the road as just that – and not the race track it was a couple of days ago. Regardless, where it is clear, open and safe to do so I raise the speed a little. Kirkmichael is quaint, almost pretty and slow. Quarry bends is smooth and bends in both directions. Ballaugh Bridge still pops the front end up even at slow speed, causing my stomach to lurch. Ramsey is busy and bustling, Parliament Square looks entirely alien from this angle yet familiar (probably from the on-board footage I've seen in the past).
Ramsey Hairpin is the start of the Mountain Pass and the one way. An R1 in front of me takes the bend perfectly. So smooth that I am transfixed watching them. So focused on him in fact that I get the corner all kinds of wrong, running stupidly wide and in turn am still all wrong for the Waterworks bend which follows. I compose myself and start to open her up. There's no speed limit and it's one way. There remains a dashed white line down the middle of the road and it takes a few corners to get my head around the fact that nothing will be heading my way from the opposite direction. I relax into it and the speed creeps up. The views are breath-taking up here and I seem to have gotten very high, very quick. I feel like I could see the whole island from here if I only dare look. I know the dial has risen over the 100MPH mark at some point but I dare not take my eyes off the road for a second. The XT is at her max, giving all she's got. Across the railway tracks and there are cones, I throttle off a bit and the exhausts pop and bang as the excess fuel ignites. There are a lot of bends and it's a challenging ride but I soon find myself at Creg Ny Baa and the end of the one way. Back to the speed limit for the final straight before the round-about at 'Signpost' and camp.
Back at the tents and my heart is racing. My hands tremble with adrenalin. The bike tink, tink, tinks as it cools from the over-work. I drink a liter of water in about half a second and tell Rob and Simon about it at about 100 words a second. I'm over excited, I know. I'm ready to go again. More as a group this time (I can't recall seeing any of the others after Union Mills first time around). I also intend to stop at a few landmarks and take photos this time around. I'm going to take it easy. Rob is going to film the lap but he's having technical problems with the camera. The rest of us are all suited up, bikes mounted waiting for him. I can see him rushing, conscious that he's holding us up.
Finally we're off. The group forms in line behind me and straight away there's traffic. No problem, we're taking it easy any way. At Union Mills we see a speed trap, a police officer with a hand-held speed gun. We're taking it easy so it's of no consequence to us plus there's traffic anyway slowing us. Soon after we find ourselves behind two matching R1s, ridden by guys in matching white race leathers. They're absolutely crawling – 20 in the 30's etc. It's a matter of time before Rob's had enough and makes his move. I follow. Passed them and we bunny hop past some other traffic. A few cars and a camper van and there's clear road. We're cruising. More speed traps, police trying not to look like they're hiding in hedges on the corners but we're taking it easy any way. 30MPH through Kirkmichael and the streets are full of locals going about their daily business, they barely give a second glance as the bikes cruise through. Out of the village I see the 40MPH sign and Rob accelerate away. Childish I know, but I'd like to be in front at Ballaugh Bridge and I know there are overtaking opportunities coming up. I accelerate to keep level and that's when I see him. High Vis Jacket and arm outstretched. I pull up and take off my helmet. The camper and Little Steve pass, I wave. I'm asked for my license. Simon rolls past, I spare a nod. Dave passes with a concerned look, I wave as he passes. "Do I know why I've been pulled over?", the speed gun is a good clue so I have a fair idea. The officer writes me up and explains that because of the Isle of Man's self governance there are no points but the fine can be 'hefty' at £10 for every mile over the limit. He has me clocked at 51 in a 30, I do the maths and work out I'm looking at a £210 fine. Bugger!
I could argue my case in court if I like? I could have sworn I was already in the 40MPH area plus I appear to have gotten from 30 to 51 extremely quickly for a single cylinder 660cc bike with a 'big-boned' bloke on it. I could argue that had any of the events leading to this moment been different I wouldn't be stood on the side of the road with this officer now. It's said that the XT lends itself to an aggressive riding style, I could argue that is why I was singled out. I could argue but the fact remains that I'd been caught speeding. Sometimes you have to take the rough with the smooth. Whilst having my ticket processed a guy on a GSX1000 performs one of the daftest over takes I've ever seen, passing a van at full tilt on a blind bend – the copper nearly choked on his pen lid and jumped out to pull the rider in. He pulled his bike in front of mine, removed his lid and calmly sparked up a cigarette. I had the distinct impression he'd been in this situation before. There was a comedy moment after the officer had finished with me; me and the other 'criminal' passed paths and as we did so swapped that cheeky school boy smile, knowing we'd both been collared doing something stupid.
Suitably chastised the experience was a real buzz-kill but the track is engaging enough in its own merit so I crawl around taking in every minute detail and nuance. Bikes are passing me but I'm more than aware of the consequences. Quarry Bends is actually a bit of a dump and nowhere near as much fun slowly but the School House is a fasinating building with plenty of character. Ramsey Hairpin is still tricky, even slowly the sharpness of the bend with the steep incline is still a challenge. My hearts just not in speeding over the Mountain again so I take it slow savoring the scenery and absorbing the whole of the stunning vista. Cloud starts to close in though and it's all soon bathed in gray. I pull in at the Snaefell Mountain Railway Station and wander up to the Joey Dunlop memorial. The statue, Joey astride his Honda surrounded by stone plaques of his TT victories, over looks the track and is majestic. He seems to look down over the course with a patriachal smile. The setting for the statue, the place of his last retirement in the TT I believe, is a beautiful and peaceful spot. The space around it is perfect and I have the place to myself. Well worth the visit.
At the station where I'd parked the XT was the remnance of a gorgeous brand new R1. The rear of the bike, to all intents and purposes, is gone and the rest is pushed up through what remains of the seat. There was a note stuck to the deformed tank for the recovery team but no mention of the rider. I didn't fancy his chances, half the battery is sticking out where his bollocks would have been. I wind my way down to Creg Ny Baa and Dave, Simon and Paul are stood outside the pub waiting for me with coffee and muffins. Dave takes a quick picture of me arriving but there's a fair bit of traffic so probably not the calendar shot he was hoping for. Down off the mountain and the sun is edging back out now. A bike cop is mooching around the pub garden chatting and laughing with the huge crowd of bikers. We all head back to St George's, grab a lazy lunch from the supermarket and settle in the club house with a cold brew to watch the Moto GP. Rossi and Lorenzo have what can only be described as the epic battle of epic battles! The whole club house was jumping about out of the comfy sofas. I very nearly spilt my pint. The race will be written about and remembered for years I'm sure and we watched it in the Isle of Man – pretty cool.
It was our last night and I had in mind that we might indulge in a meal out together as a group to mark the occasion and reflect on our times there. Best laid plans and all that though... rallying the troops proved an impossible task and even sharing an opinion on the matter seemed beyond us. We settled for a fast food pizza joint and all sat with our backs to each other eating horrid greasy pizzas before heading back to the Queens for a few final beers. The Queens was noticeably quieter, illustrating the volume of visitors that had already returned to the mainland. Nevertheless we managed a pleasant, almost civilised evening. We may have wandered down the Snakebite and Black route at some point again though... I'm hoping this isn't a habit forming.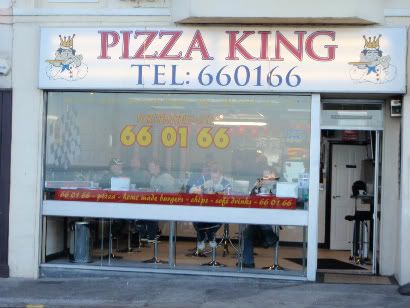 Monday
The Good Long Monday
The usual sense of finality was way-laid by the mid afternoon sailing so those awake started a slow and lazy decamp. I left my tent errect and placed everything, packed, within it in preparation for the final off. Then we all headed into Douglas in search of a full Manx breakfast. Rob and Simon opting for the lazy ride down rather than the foolhardy walk. We ended up in a grubby little café with appalling service at the far end of Douglas after a rather onerous and sweaty walk. Worst of all, the café had NO KIPPERS! After our greasy and dissapointing breakfast we began the long trudge back up the hill. 200 meters up the hill and Dave remembers that he STILL wants kippers so heads back into town in a die-hard act of defiance. I found myself walking back alone, I think the others must have gone back the other way, maybe the shorter way. Possibly even the cooler way. My way was hot. Sweltering hot and steep. And long. But I got some lovely pictures of Douglas looking it's best in the searing sunshine. The walk ends at Bray Hill and I stop to take some pictures of the Grandstand and leader boards (famous for their boy scout operatives on race days).
The guys are walking into camp at the same time as I get there so perhaps they didn't take the short route after all. We pack up tents and load the bikes. I think I'm sweating 100% proof beer so I'll be glad to get moving and a bit of breeze to cool me off. We pull out of the site for the last time and head to the ferry port via the souvenir shop. Almost immediately we're sheparded onto the Seacat and once again packed into the sardine tin bowels of the vessel. There was a truly remarkable mix of bikes on board from modern racers to classics, trailies to sidecars and even quite a few wrecks. Victims of the mountain course I suspect.
A treacle thick fog had decended over the Irish Sea and was now engulfing the harbor too taking visibility to a matter of meters. The pilot expertly navigated out cutting through the fog in a largely painless sailing (apart from the screaming child sat in the row in front). I was so tired I slept for most of the two and a half hour crossing knowing full well how tired I would be after the motorway blast from Liverpool.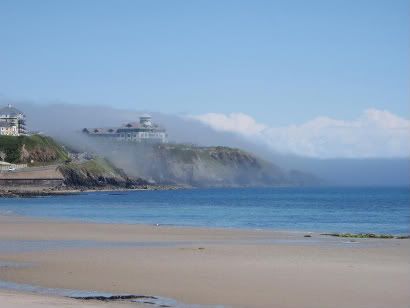 Disembarking we bid farewell to Rob who peels off north to meet with Yvonne in the lake district before continuing up to Edinburgh and the start of his mammoth 'Longest Day' charity ride (through Britain and Ireland's five capitals in 24 hours). Eager to 'just get home' I switch on my Tom Tom and let it lead me. Everyone seemed happy enough to follow. We stop for fuel and there was a bit of grumbling about Tom leading us a merry dance, taking us on an 'odd' route but for want of a more constructive solution we kept faith and was soon rewarded with the motorway slip road. Conscious to keep pace with the slowest of the group we cruised along at a steady 80, it was nice and easy, dry and with little traffic.
At the Stoke and Uttoxeter exit Simon, Little Steve and Dave peeled off as we waved and tooted our farewells. Now only Paul and me remained. The two single cylinders and an almost daunting spread of miles ahead. 100 miles in and we stop for another fuel break. Paul is attempting the whole journey on the one fuel load but my tiny tank doesn't offer me that luxury but we both stop for a much needed coffee and a bran bar. Fortunately the weather had been dry thus far if a little chilly but Paul hears from his wife that back home they're experiencing torrential downpours. So much so in fact that his porch roof had sprung a leak. By all accounts Surrey was now being pounded by huge hail stones. On an unfaired single, blatting along the motorway these conditions could prove horribly uncomfortable. Especially in our light summer touring gear which was far from waterproof. We press on in the hope that we may be lucky and miss the worst of it but Paul has already decided that should the weather hit he will stop and take shelter... quite where I wonder?
Sure enough we soon saw the storm clouds gathering. Dark brooding skys soon swamped above but it was obvious that it was to be a brief encounter, over the flat landscape of Oxfordshire I could see the brighter end to the amassing cloud. My rear view mirror was filled with the setting sun, dark clouds and little else. A stark monochromatic image. Ahead I could see a perfect line in the cloud and a pale blue sky where it ended – it was a surreal picture. Freezing hail now pelted me, like hundred of pin pricks. The gloom through my dark visor shrouding my vision. I pushed on eager to push through into the dry ahead. With the sun setting behind me I'd been unable to see anything, including Paul and I was unsure whether he had indeed stopped to shelter from the storm or not. I'm not sure where he could have stopped but slowing now I could no longer see him. I was due my final fuel stop so pulled in at the next services keeping a vigilant eye and ear for the pop pop pop of the little thumper. there was no sign. Logic dictated that he must have pressed on past the service stop or I would have seen him for sure by now. The storm was past now so I had to assume he'd simply carried on not needing fuel like me. I hit the throttle and tried to catch up with him.
Sadly it was a lost cause. A couple of days later I spoke to Paul, he had in fact stopped twice from where I'd last seen him; once for a coffee and a toilet and then later for yet another toilet break! It did mean that I made great time from that last service stop though and I was home by just after ten. I'd put on my goggles at the last service stop so I still didn't quite beat the setting sun but I was more than ready for a shower and my bed when I got home. My wife Sarah had made hot soup and laid dry towels out – I could get used to that. It was back to work on Tuesday so to sleep... and sleep I did!